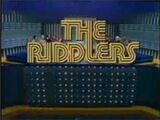 Taped
November 4, 1977
Run time
30 Minutes
Host
David Letterman
Announcer
Jack Clark
Origination
NBC Studio 2, Burbank, California
The Riddlers was an unsold pilot.
Game Format
Edit
Five celebrities played against five contestants of the same occupation, hobby, etc. in a game of asking & answering riddles. At the start of a team's first turn, host Letterman read a riddle to the first player, and a correct answer allowed that player to read a riddle to his/her partner, who then a read a riddle to the next player, and so on and so forth. As soon as a team got five correct answers, progress went the other way. When a player missed a riddle, control went over to the other team. The first team to answer nine riddles correctly won the game and $500.
Crazy Quotes (Bonus Round)
Edit
The winning team went on to play a bonus game called "Crazy Quotes" for some extra money. Players on the winning team arranged themselves around in "intellectual ability". Host Letterman read five quotes supposedly said by famous people. Each correct answer won more money and they increase in difficulty. The first four questions were worth $100, $200, $300, & $400, and the last question was worth $1,000, for a maximum total of $2,000.
Home Viewer Contest
Edit
While the civilian contestants played for themselves, the celebrities played for five home viewers. Host David Letterman drew five cards and announced the home players at the start. All money won by the celebrities was divided among the home viewers.
Celebrities
Edit
JoAnne Worley
Robert Urich
Joyce Bulifant
Michael Mckean
Debralee Scott

Bob Cobert
The main theme would be used in another Bob Stewart pilot Caught in the Act (1975), as well as the ABC special focusing on funny moments from Goodson/Todman shows called "TV's Funniest Game Show Moments".
Wacky Moments
Edit
Near the end of the main game, a light blew out. The sound was so loud that it scared Jo Anne Worley forcing her to leave the stage for a brief moment. David referred to it as "Sniper Fire".
When approaching the bonus round podium. Jo Anne, Joyce & Debralee fought for the easy/dummy spot.